September 2017
REGISTER TODAY FOR THIS EDUCATIONAL EVENT
Inspirations Software and Hooping Clinic
OCTOBER 6 OR OCTOBER 7, 2017
10:00 am to 2:00 pm
$29.00
(Program will be the same both days)
Join Inspiration Consultant at Tina Bartelmay at Big Sky Quilts for the Software and Hooping Clinic on either October 6 or October 7, 2017, 10:00 am to 2:00 pm. This is an opportunity to learn tricks and techniques to expand your machine embroidery creativity.
Expand your hooping repertoire! Hoop everything from a onesie to a terry cloth towel

Discover the industry's preferred method of embroidery placement

Measure and mark without leaving a trace

Avoid misplaced embroidery like a pro

Produce professional grade applique

Create and critique precision lettering

Turn words into artwork

Edit designs on the fly

Transform simple sketches into artistic thread works

Multiply your design stash

Master continuous embroidery
Everyone is welcome to attend, you do not need to bring your machine, come ready to learn.
REGISTER TODAY AS SEATING IS LIMITED!!!
Joyce
Big Sky Quilts will be Closed September 2, 3 & 4, 2017
BIG SKY QUILTS
Registration for classes can be in person, by phone or on-line. When you register on-line for a class you will receive a follow up e-mail with the supply list. If you want to use a classroom machine call Big Sky Quilts to reserve a machine.
September 2017 Classes
Two Fabric Bargello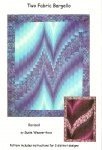 This quilt may look like a traditional Bargello design has nothing in common with the traditional construction method. Only 2 fabrics are used in this project. Completed quilt is approximately 46" by 57".
Date: September 8 & 9, 2017
Time: 9:00 am to 4:00 pm (both days) Bring your lunch or order in
Cost: $ 45.00
Instructor: Tonya
Don't wait to register for this popular class!
Pajama Pants
Make fun and comfortable pajama pants using the pattern Sew Easy
Pajama Pants by Cindy Taylor Oats. This class will use a regular sewing machine for the construction of the pants. This is a great project for beginner sewers and experienced sewers who are looking for gifts for birthdays and holidays.

Date: September 12 & 13, 2017
Time: 6:00 pm to 8:30 pm (both days)
Cost: $ 20.00
Instructor: Maryanne
Buzz Mug Rug Mat

Buzz Mug Rug features a flying bumble bee over the word Buzz. This is a great mug rug for your home, sewing room, office, or as a gift for a friend. You can even send this as a postcard to someone special!
Finished Mug Rug measures 5 1/2″ by 7 1/2″
Date: September 14, 2017
Time: 10:30 am to 3:30 pm Bring your lunch or order in
Cost: $ 35.00
Instructor: Cheryl


Classic plaid and traditional woven tapestries inspired the patchwork plaid layout of
the quilt. Class will construct a crib size quilt using 4 fabrics for the top and a coordinating kid friendly fabric for backing.
Date: September 20 & 21, 2017
Time: 1:30 pm to 4:30 pm (both days)
Cost: $ 45.00
Instructor: Barb
October 2017 Classes
For more information on these classes please visit our classes page
Dime Inspiration Software and Hooping Clinic
Stand 'n Stow Bag
Pajama Pants / Serger
November 2017 Class
Turning Points
Check our web site www.bigskyquilts.com frequently to find new classes as they are posted.

WEEKLY SPECIALS
Every Thursday, Friday and Saturday each week during the month of September there will be featured selected merchandise as a weekly special.


September 7, 8 9
$5.00 off your purchase of $35.00
September 14, 15, 16
Purchase one regular priced pattern, 2nd pattern 50% off. Pattern cannot be part of pre-packaged kit and must be equal or lesser price of regular priced pattern.
September 21, 22, 23
Receive 25% off one regular priced notion when you spend $50.00 or more.
EXCLUDES: machine accessories, computer programs
September 28, 29, 30
10 % off all wide back fabric, includes 90"wide minky
Some restrictions apply. Ask a staff member to be sure an item qualifies.
September Machine Specials
SUPER BUYS ON NEW & USED HANDI QUILTER MACHINES