February 2018
SAVE THE DATES FOR THIS POPULAR EDUCATIONAL OPPORTUNITY!!!
Handi Quilter Educational Event, March 21 – 24, 2018
Featuring Art and Stitch and HQ Pro-Stitcher
Art and Stitch—March 21 & 22, 2018
Using Art & Stitch with HQ Pro-Stitcher you can create your own quilting designs or trace a photo to create a design which can then be stitched out using the HQ Pro-Stitcher. This is a wonderful economical alternative to downloading. Topics will include building digitized design collections, transferring designs and creating PDF files to print designs including recommended sizing.
Introduction to HQ Pro-Stitcher—March 23, 2018
HQ Pro-Stitcher is an intuitive computer-guided quilting system designed especially for use with HandiQuilter long arm quilting machines. Topics include: overview of menu and basic functions, working with built-in designs; importing, saving and customizing designs, resizing and repeating a design to fit a specific area, handling thread breaks and creating, cropping and nesting edge-to-edge designs.
Moving on with the HQ Pro-Stitcher—March 24, 2018
This class is an extension of the basic introduction to the HQ Pro-Stitcher. Focused on additional functions of the HQ Pro-Stitcher that go beyond the basics and the problems-solving situations for situations you may encounter. Tips and shortcuts will be shared for using the many features and functions of the HQ Pro-Stitcher program. At the completion of this class you will know how to have Art and Stitch and Pro-Stitcher programs talk to each other.
Seating is limited, REGISTER NOW!!!




JANOME RED TAG EVENT
JANUARY 15 – FEBRUARY 28
Purchase a Janome Horizon Memory Craft 9400 or Memory Craft 6700P sewing machine at great savings and receive a free gift of a universal sewing table valued at $599.00. Visit the shop to check out special pricing on other Janome sewing, embroidery and quilting machines.
Joyce




BIG SKY QUILTS CLASSES
Registration for classes can be in person, by phone or on-line. You must be paid for a class to receive a class supply list. When you register on-line for a class you will receive a follow up e-mail with the supply list. If you want to use a classroom machine call Big Sky Quilts to reserve a machine and make arrangements to learn how to use the sewing machine. You need to be familiar with the sewing machine you are using, including threading the machine and winding a bobbin.


February Classes
Mystery Quilt
This exciting adventure in quilting was designed to teach, inspire, and
expand your quilting horizons, The quilt is entirely pieced using both traditional and a few new techniques. This is not a block based quilt but rather a quilt built in sections to create a collage effect. Once you have chosen your focus fabric you can pick fat quarters for everything else. Finished quilt size will be 70 x 70 or 82 x 82 (depending on your outer border size).
Dates: Saturday, February 17, 24, March 3, 10, 17 and 31.
Time: 10:30 am
Cost: $95.00 plus cost of fabric and supplies Class fee will include your pattern (to be handed out by instructor at first class) and two specialty rulers
Instructor: Nichole
Jelly Roll Race
Grab your favorite Jelly Roll and get ready for speed sewing using pre-cut 2 ½ inch strips and your creativity create a fun and colorful top. Everyone comes out a winner with a gorgeous finished top.
Date: February 20& 21, 2018
Time: 5:15
Class Fee: $25.00
Instructor: Nichole
Scan n Cut
Join us for a fun and easy class to learn the basics of the versatile Scan N Cut machine. Turn a kitchen towel into a customized towel with iron-on vinyl of your choice during this 2 hour class. Supplies for the project will be provided. You will need a sewing machine and basic sewing supplies, any type of tool with a sharp point to pick out the unwanted vinyl when it's cut and a USB drive.
Date: February 24, 2018

Time: 2:00 to 4:00
Cost: $10.00
Instructor: Maryanne


March Classes
Tuffet Foot Stool
Learn to create your own upholstered Tuffet in this two-session class. The Tuffet is a lovely upholstered round or square footstool. In addition to the cost of the class, the upholstery kit fee will depend on the kit you select, round or square, with or without feet. Class requires an intermediate knowledge of sewing. We will be working with fusible interfacing, upholstery materials, and power tools resulting in a three-dimensional finished product. The first session, you will use pre-printed fusible interfacing to cut out all the pieces you need to assemble your Tuffet cover. The remainder of time will be spent sewing 1/4 of your Tuffet cover together. This will give you the confidence to go home and sew the remaining three sections to finish your cover. The second session, we get out the power tools and have fun putting your Tuffet together.
Dates: March 17 & 31, 2018
Time: 1:30 pm to 5:00 pm
Cost: $60.00 plus cost of Tuffet kit and other supplies
Instructor: Maryanne
Handi Quilter Educational Event, March 21 – 24, 2018
Featuring Art and Stitch and HQ Pro-Stitcher
This education event is a great opportunity for you to get top notch HandiQuilter training here in Montana. We are thrilled to be partnered with HandiQuilter and able to offer this series. Much effort and coordination were put into creating this unique event. Art and Stitch and the HQ Pro-Stitcher are the featured training. The first 2 days will focus on Art and Stitch, day 3 will be HQ Pro-Stitcher with day 4 bring the two programs together. Cost will be $250.00 for 4 days of training. Classes will be held at Big Sky Quilts, 9:00 am (doors open at 8:30 am) to 4:00 pm, bring lunch or order in. Attendees will need a lap top, Art & Stitch tablet, power cables and a flash drive. More information posted at www.bigskyquilts.com/classes

Seating is limited, REGISTER NOW!!!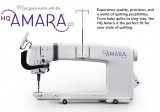 Check our web site www.bigskyquilts.com frequently to find new classes as they are posted.