January 2019
Happy New Year from Big Sky Quilts!!!
2019 brings new classes, special events and more opportunities for creativity.
After Inventory Sales
Watch for e-mails announcing special sales
on many fabrics throughout the month of January
Save the date for a 3 day Educational Event with HQ Educator Susan Manry
June 4-5-6, 2019
Tuesday-Wednesday-Thursday
Plus a 'Direct Book' with Susan on June 7-8, 2019

Yearning for a career using her creative talents, Susan was smitten after discovering the combination of her creative joys in one activity – long arm quilting! Fabric, drawing, design, and sewing all in one complete package was simply too enticing to resist, and soon she was happily partnered with her HQ Fusion® and HQ Pro-Stitcher®. Mastering Pro-Stitcher and Art and Stitch, and seeking innovative ways to use both, Susan now enjoys quilting professionally with the HQ Infinity®.
JANOME RED TAG EVENT
JANUARY 15 – FEBRUARY 28
Purchase a Janome Horizon Memory Craft 9400 or Memory Craft 6700P sewing machine at great savings and receive a free gift of a universal sewing table valued at $599.00. Visit the shop to check out special pricing on other Janome sewing, embroidery and quilting machines.
Joyce
Longarm quilting is now available.
Bring in your completed quilt top, select quilting design, backing and binding.
We will finish it for you.


BIG SKY QUILTS CLASSES
Registration for classes can be in person, by phone or on-line. You must be paid for a class to receive a class supply list. When you register on-line for a class you will receive a follow up e-mail with the supply list. If you want to use a classroom machine call Big Sky Quilts to reserve a machine and make arrangements to learn how to use the sewing machine. You need to be familiar with the sewing machine you are using, including threading the machine and winding a bobbin.


January Classes
Stash Buster Club—January 11, 2019
2nd Friday of each month 1:00pm to 4:00 pm, $10.00
Join us and get ideas to use that fabric you just could not live without, and is still in its store bag
Bring your own machine or use a classroom machine. Bring fabric and sewing/quilting supplies.
Open Sew
Our classroom is available for quilters to come in and work on those UFO's in your closet every Wednesday from 1 pm to 8 pm. Cutting tables and irons are available. Bring your own machine or use a classroom machine. You will need to purchase needles and bobbins if you are using a classroom machine or bring needed accessories with your machine. Please call the shop at 727-1757 to be sure the classroom will be available.
Ruler of the Month Club
Get exclusive ruler kits and tutorials delivered straight to Big Sky Quilts each month! The Long arm Ruler of the Month Club is a great opportunity to challenge your quilting skills and build ruler work confidence. Each month in the six-month series features a debut acrylic ruler paired with mentorship from your local shop, step-by-step video instruction and design ideas. The January ruler is the HQ Hexie 3 Template.
Dates: January 19, February 16 and March 16, 2019
Time: 1:00 to 4:00 pm
Cost: $29.00 per month, $174.00 for all 6 rulers for a savings of at least $6.00 per ruler. Receive a different thick Long arm ruler and facilitated instruction by a fellow quilter. These rulers are not available for general sale until the conclusion of the Ruler of the Month series.
Round Jelly Roll Rug
Make this colorful 38 inch round rug using pre-cut fabric and batting or cut your own 2 ½
inch strips. This is a great project to add your personal touch to your home decorating using your stash fabric and extra batting. Strips are sewn together on a sewing machine using a zig-zag stitch with minimal hand stitching.
DATE: January 12, 2019
TIME: 10:30 to 4:00 Bring your lunch or order in
COST: $30.00
INSTRUCTOR: Marlene
Beginning Bag
Have you ever wanted to create a bag but have no idea where to start? Want to practice using new materials but desire a simple project to perfect your skills? Well then you're in luck. Together we will create an amazing beginner friendly bag. You may use yardage or fat quarters for this project. Class will construct this 11 inch Wide at the top x 12 ½ inch tall x 4 inch deep bag with decorative accent and front and back mirror image. Use cork for no sag bottom. The bag has 6 inside pockets and magnetic snap closure. Need basic sewing skills.
Dates: January 15 & 17, 2019
Cost: $30 plus cost of pattern and materials
Time: 5:30 – 8:00
Instructor: Marlene
Be My Valentine for Machine Embroidery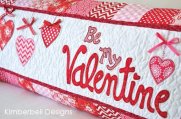 Use your embroidery machine to create this charming 16 by 38 inch wall hanging, table runner or bench pillow. Hearts, ribbons and bows with an embroidery message make this colorful piece. Bordered by patchwork piecing. A CD with full instructions and pattern is used to guide you through the construction. The CD also includes SVG files for Personal Electronic Cutting Machines.
Participants need to bring their own embroidery machine. A Brother Dream Machine with a 9 x 14 hoop is best but there are options for using a smaller hoop 6 x 10 (will require more hooping). Other machines are welcome, must be familiar with the operation of your embroidery machine. Kit is available including CD. Class size maximum 6.
Date: January 19, 2019
Time: 10:00 to 4:00 Bring your lunch or order in
Cost: $45 + supplies & CD

Instructor: Tonya

Quilting 101
This class is for those individuals with little or no quilting experience learn the basics of constructing a quilt during 6 class sessions. Through lecture, demonstration and lots of hands-on experience learn the basics of making beautiful quilts. Focus will be on basic techniques, understanding how a quilt is constructed, safe use of equipment, including a rotary cutter and tips from experienced instructors. Participants must have knowledge of basic sewing skills and operation of a sewing machine. Using the Nifty Nine Patch quilt pattern participants will construct a 50"x 62" quilt top. Class will also construct a small table runner from beginning to final completion to learn machine quilting.
Dates: January 24, 31, February 7, 21, 28 & March 7, 2019
Time: 5:30 – 8:00 pm
Cost: $60.00 + cost of fabric & supplies
Instructors: Barb & Marlene
Check our web site www.bigskyquilts.com frequently to find new classes as they are posted.